Back to Blog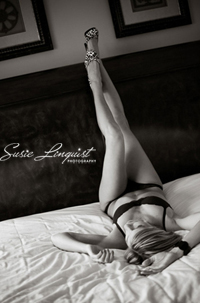 This post will focus on making your legs look long and lean all by what you choose to wear!
Sexy Legs!
1. Lose the Strap! The best way to make your legs look longer is to wear a shoe WITHOUT a strap. I love my strappy shoes as much as the next gal, but if you wear them to a session your legs will appear shorter.  No strap, and a closed toe makes your leg appear longer which = leaner!
2.  Hide them.  If you are insecure about spider veins or pale legs, the best way to keep your legs looking sexy is to add a thigh high.  Either a solid black or a fishnet is suuuuuper sexy!  I love these and they can add so much to a basic outfit.
3.  Get girly. Long skirts or long nightgowns are so feminine and so pretty. We can do so many fun things with them in photos, too!
LASTLY, remember this is only one tiny part of making you look your best! If you show up with one bra and one nightgown, we will still be able to take a gorgeous photo of your legs, arms, butt, belly etc., just with the use of light and perspective! So don't fret if you are having a hard time finding the perfect outfits 🙂